Meet the President - Lori J. Day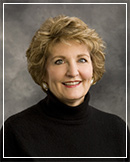 Lori's business leadership, management, coaching and consulting spans 20 years. During her career she's held executive positions in marketing, sales and service in Fortune 500 corporations and worked with privately held companies and individuals. Her unique combination of expertise enables her to help individuals and organizations grow through practical solutions that work. An accomplished facilitator of the prestigious Kauffman Foundation's FastTrac entrepreneur program, she has helped many entrepreneurs.
Lori has built high performance leaders, teams and results across a wide range of industries and applications including financial services, manufacturing, insurance, publishing, mortgage, service centers, distribution, sales and call centers. She's also known for her work creating loyal clients and "Wow" customer experiences. Over 6,000 people have been trained in her Professional Business Communication Program, consistently receiving the highest marks.
Recently Lori was chosen to lead a career center for Maytag/Whirlpool—the largest center in the U.S. with four comprehensive career tracks (traditional employment, life options, education and entrepreneurship).
Selected for a premier executive assignment in a Fortune 500 company, she worked directly with the Chairman of the Board to advance strategic initiatives. In addition, she established several new functions—Global Customer Relations, direct marketing, Internet, inside sales and service call centers—with an impressive record of results.
Lori is committed to the success of every client. She's known for her focused coaching, leadership development, business communication skills and contagious positive attitude. Through her varied business experience she understands the direct impact to clients and staff, competitive differentiation, operational effectiveness, revenue, expenses and profitability.